Missed call alert is web based application to engage with customers. It is very effective for lead generation where you will never miss a call or query from your clients. Missed call alert service is used for opt-in process, verification, polling, voting, customer feedback, lead generation & call back services. Caller do not pay any calling fee.
How it Works?
In this service, you will get a dedicated number. Working process is mentioned below. Caller given call on your mobile number
An auto confirmation SMS is send to the caller thanking him for calling and informing him that his number has been registered.
Caller's number is stored in database.
And one executive will call him back soon to understand his requirements / Concerns.
Missed Call Alert Service- Features
It is a hassle free way. Clients just dial a number that cuts automatically.
It is very cost effective mode. Zero cost for the callers.
It is very flexible to use mobile & landline phones.
Real time notification via SMS & emails.
Easily integrated with SMS, IVR & Emails.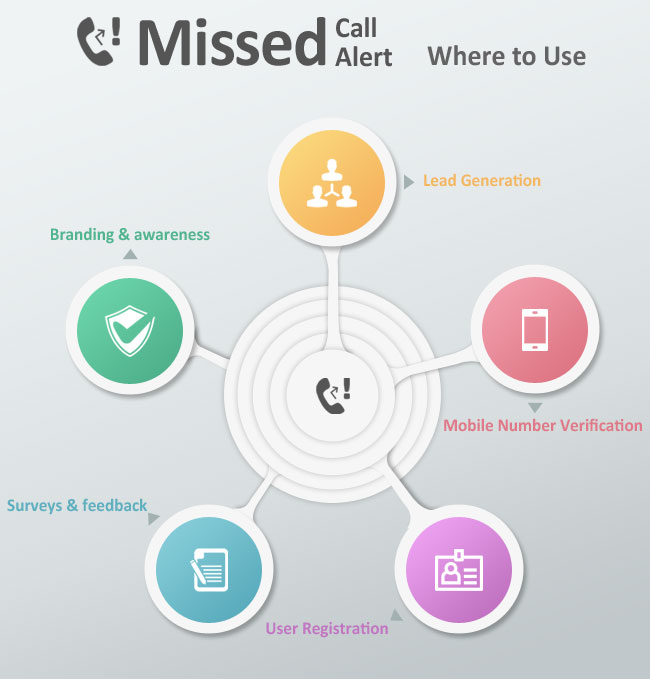 Where to Use
Lead generation for business
User registration
Mobile number verification
In TV shows & TV ads
Voting, opinion polls & customer feedback
Off-line & on-line registration
Forget & reset the password
Branding & awareness
Alerts, follow-ups & subscription
Where Can Promote Missed Call Number
Websites and on-line ads
Social media platforms like Facebook, Twitter, Linkedin, Google+ etc.
SMS and email campaigns
TV & radio ads
Print media, banner & hoardings