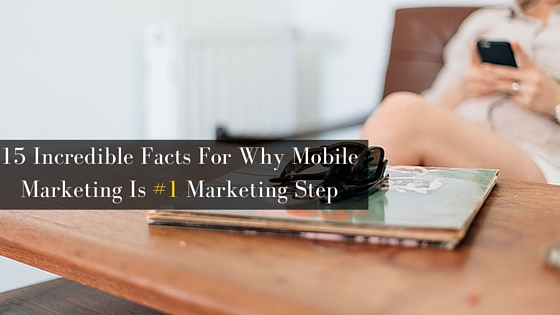 Nowadays chatting apps and lot of new things have discovered but the importance of the text messages can never be replaced.
Think of a thing which you see at very first in the morning, and keep on handling it whole day even before a second you're going to see.
Your phone. Right? We all use our mobile phones and assume it as our body part. If something is so important, then how you can avoid using such thing in your marketing strategy.
It's always good to have  hands spread in different marketing techniques but doing marketing without SMS Marketing is nothing more than trying to wipe water from an ocean. If you're still using a lot of marketing techniques and think a lot that why you should go for Mobile Marketing if you're already using so many techniques.
Then, we have 15 reasons with data to make you understand why it is very important for your Marketing plan to include the SMS Marketing Strategy.
1. Texting is the most widely-used and frequently used app on a smartphone, with 97% of Americans using it at least once a day. [Source]
2. 75% of phones worldwide (4.5 billion) are text-enabled. [Source]
3. Text messages have a 98% open rate, while email has only a 20% open rate. [Source]
4. 98% of opens their text message within 3 minutes. [Source]
5. 43 %of customers are more likely to make a purchase when mobile offers are part of an orchestrated campaign that unfolds over time across multiple channels. [Source]
6. Nearly a third of consumers have subscribed to mobile marketing from brands, but 35 percent of them aren't getting relevant messaging. [Source]
7. The open rate of SMS is 98 percent compared with 22 percent for emails. [Source]
8. 63 percent of all tablet owners have purchased a product or service from their device, compared with 39 percent of smartphone users. [Source]
9. 70 percent of mobile browser searches lead to action within an hour — 40 percent are on tablets and 60 percent on smartphones. [Source]
10. 47 percent of consumers want mobile offers on their devices when they pass by a store.[Source]
11. Mobile offers are redeemed 10x more frequently than print offers.[Source]
12. 70 percent of consumers found all types of push notifications, including order updates and location-based messages, to be valuable. [Source]
13. Mobile marketing ad spend grew more than 100 percent in 2013 and expected to be still growing.[Source]
14. the number of smartphone coupon users last year rose by 66%, following a growth rate of more than 100% in both 2010 and 2011. [Source]
15. 70% of mobile searches lead to action on websites within 1 hour. [Source]
These were some of the dogged results of mobile marketing. Till now you must be amazed seeing these data.
Don't panic, if you have not started the mobile marketing for your business. Start, turning it on from today onwards because your customer needs to know each frequent step of yours. All you need is to understand properly this Mobile Marketing Strategy.
It's always good to make your customer feel relaxed and let them know all your updates through their fingers without even opening their laptop or desktop.